MicroIQ Prox smart locks are the modern choice of designers and builders in every industry as the ideal security solution to properly secure storage that is not only affordable, but extremely reliable. Chosen for its' versatility, our forward thinking technology secures cabinets, drawers, cages, data servers, lockers and more with robust access control to remotely grant/revoke users at any time, provide audit trails for compliance or potential breach. MicroIQ Prox provides the perfect modern design for building ecosystems without the hassle of physical keys or replacements. Enhance furniture in minutes by a simple simple drop-in replacement for all key operated locks: Spring bolt, Cam & Core insert. Antiquated locks can be easily manipulated, so businesses need advanced technology to replace them.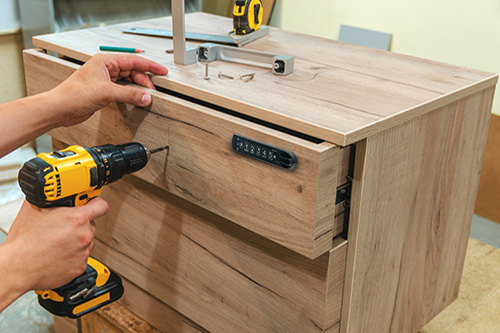 MicroIQProx locks are a smart design choice and a smart technology choice. They are a quick install and are built with technology that is easy to deploy and manage. Locks come in different sizes, configurations and finishes to address all of your application needs.
Increase storage security in every industry, while improving productivity with the most versatile, sleek and smallest footprint electronic lock.
Future proof your investments by including intelligent locks into floor plans, offering a best-in-class access control scalable for any business and to satisfy compliance.
Only MicroIQ Prox provides a touch of modern to your office security and promotes operational efficienty. Powered by one coin-cell battery lasting up to 3 years.
Manage hundreds of locks remotely from our powerful web-based ProxTraq App to monitor audit trails in case of unauthorized attempts or breach which has a painful recovery.
Easy to wirelessly install, maintain and monitor for administrators. Industries rely on MicroIQ to help monetize and secure every type of space.