K-12 and Universities are implementing MicroIQ Prox™ smart locks to secure student information and assets in cabinets, drawers, lockers, classrooms and more. With so many students entering and exiting the buildings it presents a security risk for breach or theft. MicroIQ Prox uses existing student badges or phone to operate our lock, providing access management throughout your buildings. Installs wirelessly in minutes with a simple drop-in replacement for all key operated locks: Spring bolt, Cam & Core insert. No more lost keys or expensive locksmiths. Our cloud-based, mobile interface ProxTraq App allows administrators to monitor usage and run instant data analytics. The simple one-handed action, rather than searching for a key and avoids higher costs of having to re-key when they are lost or offboarding students or staff.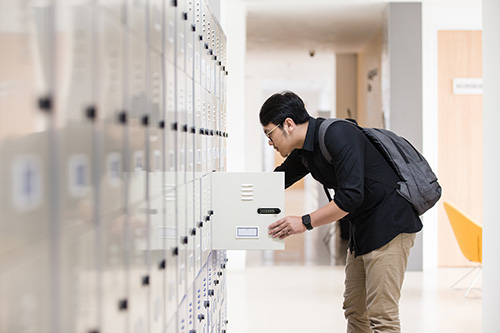 MicroIQProx is a perfect solution for lockers and other shared storage units. Students can use their ID badges or smartphones for access. Security managers can easily assign or delete users with the MicroTraq app. No more keys and combinations to manage.
Scalable security solution for schools and campuses to secure student documents, equipment and lockers for these uncertain times.
Intelligent, robust and easy to use for helping you detect and track access or unwanted access on campus or K-12 to desks, drawers, cabinets or any other secured storage.
Remotely grant/revoke access easily and view audit trails for unauthorized attempts with instant access control. Administrators get peace of mind and can manage hundreds of locks efficiently.
Efficiently manage, control, track and audit lock access using ProxTraq, our remote monitoring solution.
MicroIQ Prox is an powered by a concealed and secured low profile coin-cell battery that is conveniently accessed and operates up to 3 years before replacement.