It's clear why healthcare organizations choose MicroIQProx locks
Healthcare facilities trust MicroIQ Prox to protect the safety and privacy of their patients. Hospitals and clinics have been using employee badges for years to secure building access and single sign on applications. With solutions built on MicroIQ RFID technology, those same badges are now used to operate electronic smart locks, providing access management throughout their buildings. Nurses and facility managers simply use their badge as their credential for improved workflow and access control. The simple one-handed action, rather than searching for a key and healthcare facilities avoids higher costs of having to re-key when they are lost or employees are terminated. Simple yet robust access control for peace of mind.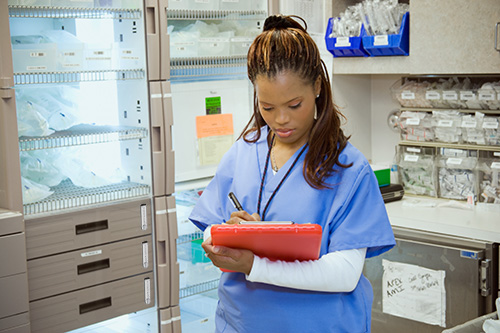 Access with existing RFID badge/ProxCard – Easily learn in existing badges for accessing MicroIQProx locks. No more codes to remember, keys to find, or additional badges or fobs to carry around.
Cloud-based access control – Manage hundreds of locks and users with ProxTraq, a powerful cloud-based portal that provides enterprise-wide management and control. Set up multiple levels of access, pool locks and users into groups.
HIPAA Compliance – Setup and track security protocols to satisfy HIPAA compliance and security regulations.
One solution for all secured storage – Secure cabinets, carts, lockers and medical refrigerators. Easily add latches to the ProxTraq portal with KnexIQ.
Security – Safeguard patient records, equipment, and narcotics from unauthorized access.
Effectively measure current security protocols to satisfy HIPAA compliance and new security regulations with critical monitoring of drawers, cabinets, medical carts and lockers, providing audit trails of users, reducing hospital costs and penalties for non-compliance.
Manage hundreds of locks with ProxTraq, our powerful web-based platform with encrypted RFID technology that easily manages locks and access remotely. The most versatile access control locks to future proof your facilities: keypad, key fob, proximity card, phone or tablet.
Get detailed audit trails and grant/revoke access at any time with ProxTraq App, helping reduce liability and keeping security under control.
Simple simple drop-in replacement for all key operated locks: Spring bolt, Cam & Core insert. No more lost keys or expensive locksmiths.