Hotels, Resorts and B&Bs are rapidly evolving to electronic smart locks in an effort to provide an added level of security in any hotel room or rental to ensure guest valuables are secure, protecting sensitive information and assets. MicroIQ Prox locks are helping set hotel industry security standards for a keyless security solution to secure guest room safes, drawers and front desk, cabinets and supply cases from theft or breach. With MicroIQ, lodging providers can prevent illegitimate access and easily manage hundreds of with our ProxTraq portal. Guests can use a proximity card or mobile phone, which is quickly gaining popularity among users. Traditional lock-and-key is becoming outdated for reasons such as lack of security, unreliability and maintenance costs.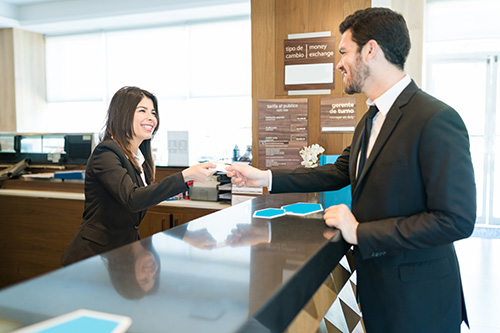 Hotels, resorts and vacation rentals are rapidly deploying electronic smart locks which provide added security and flexibility to ensure that guests and their valuables are secure.
Elevate guest perceptions of your brand by offering our robust and versatile lock to improve staff efficiency and benefit hotel guest satisfaction from an improved stay experience.
A simple and direct drop-in replacement for all key operated locks: Spring bolt, Cam & Core insert.
Station mode refers to a workstation or office environment where there is typically one daily user of the lock.
Locker mode refers to an environment such as a club, hotel, or spa where the user selects a temporary (one time) user code for access to a given room safe, drawer, locker or storage unit.
Powered by a concealed and secured low profile coin-cell battery that is conveniently accessed, MicroIQ Prox can operate up to 3 or more years before requiring replacement